This review contains minor spoilers for Home Economics lesbian couple Sarah and Denise.
/ I have to admit, it's been a while since I've listened to a new network sitcom. I'm still watching blackish and mixed faithfully, of course, but with an anxious pandemic spirit and a TV tracker filled to capacity, your girl wasn't actively looking for 22-minute time-fillers. And then I discovered that Sasheer Zamata (of Saturday Night Live and Wake up fame) would play queer in ABC's new family sitcom, Domestical economyso I watched the first episodes!
Home Economys focuses on the three adult Hayworth siblings, "one in the 1%, one middle class and one barely holding it." That's right, we're addressing class (sort of) and money (sort of) with this one. Each episode so far begins with the narration of struggling older brother and author, Tom. Unbeknownst to his siblings, Tom aims to recover from his recently failed romance by writing a book about his family. Connor, the dumb but business-savvy younger brother, is the 1% who won't let you forget he bought his new home from Matt Damon.
And that brings us to the middle child, at the bottom of the economic sibling ladder, and lesbian sister Sarah who, we find out in the pilot, has just lost her job as a therapist for low-income children. income and at risk. Sarah and his wife Denise (Zamata) live in a small Bay Area loft with their two kids, Shamiah and Kelvin, and, lest you forget they're pewrs, ​​they drive a model old car with roll up windows. Rounding out the cast is Karla Souza, whose performance as Tom's wife, Marina, is fantastic!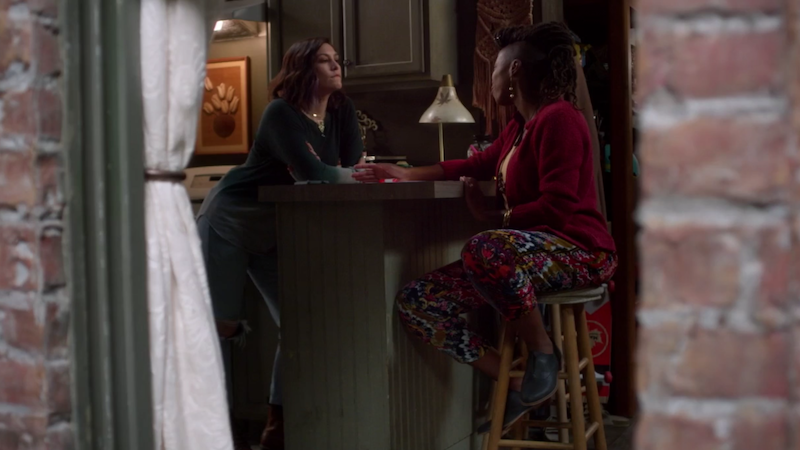 You might be wondering, dear reader, but how gay is that?! Well, I would say it's moderately gay. It's very obvious early on that there's a queer person in the writers room when Denise suggests looking at photos of Cate Blanchett in costume to cheer Sarah up. Heck, I'm not even sad right now, and I'm about to go look at photos of Cate Blanchett in costume just because.
Sarah and Denise have a simple way of communicating that feels genuine, and the two actresses bounce off each other extremely well. So far, Denise de Zamata has played the voice of reason, constantly reprimanding his wife who often gets carried away, but I really hope we learn more about Denise separately from Sarah. I regularly got real laughs every time Denise managed to reach Sarah with just a look. You can say that Sasheer Zamata gave a lot of well-meaning white women that same look, and it's quite relatable.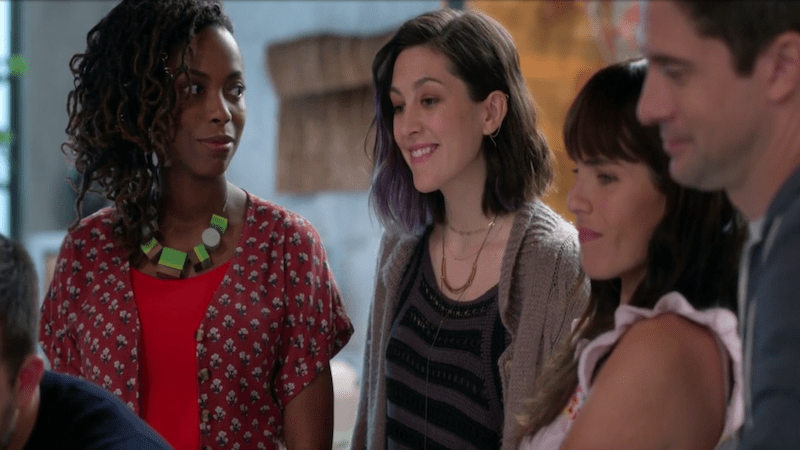 The pilots are notoriously difficult, and the early episodes of Domestical economy are certainly not perfect. They lean pretty heavily on Sarah and Denise as "woke" queer archetypes (ugh, I hate that word, but it fits here) (they're vegan! Their kids ask what their cousin dolls' pronouns are! ) rather than as people, so hopefully as the show progresses we'll see a bit more depth; or at least as much depth as a 22-minute sitcom can get. But without saying much, there is a plotline about Sarah and Denise's differing opinions on marriages which I think did a wonderful and hilarious job of capturing some very real conversations I had with my gay friends. and even with my family on the subject.
I had a lot of fun with the first episodes of Domestical economy, and hopefully future episodes give Sasheer Zamata a little more to do than just react to his in-laws white nonsense, even if those reactions are hilarious. If you're looking for something light and easy with a vibrant, laid-back queer representative of the dysFUNctional family, I highly recommend checking it out.