By Summer Grace for Jennifer Wood Media, Inc.
The Palm Beach International Equestrian Center (PBIEC) International Arena Closed Week 7 of the 2022 Winter Equestrian Festival (WEF) with $50,000 Palm Beach Equestrian Clinic CSI2* Grand Prix. Forty-four horses and riders competed for the opportunity to jump, but only 12 managed to put up a flawless effort in the first run. Late in the order, 29-year-old Maria Costa (USA) stepped on the throttle and rode her longtime partner Valentino VZ to win the class in a record time of 37.85.
"It may sound crazy, but I was on him for 30 seconds when I tried him, and I just knew I had to have him," Costa described of his 13-year-old stallion Zangersheide (Verdi TN x Converter). "Our relationship is really special to me. I've had him since he was seven, and it was definitely a rocky road at first. We've stayed super consistent with him. That's the type of horse that really appreciates consistency, so about two years later he just decided he liked it Our bond got to the point where I would comfortably go to war against him I always know he has my back and I have his, so I have to say it's the most special bond I've ever had with a horse. I can't imagine it ever getting better.
"I really wanted to take a bit of a risk today," added Costa. "I jumped flawlessly in qualifying on Friday but I wasn't happy with my performance in the jump-off. My goal was to do better today, and that goal was really my main motivation in my race. He's naturally fast , and if you let him go a bit he feeds off the energy. He's not a big horse but he gets big when he's in the ring.
Friday's qualifying class winners Fabio Leivas Da Costa (BRA) and Ilex, the nine-year-old KWPN gelding from Bonne Chance Farm LLC (Baltic VDL x Chn Chin), achieved another impressive finish taking second place with a time of 38.29 seconds. Charlotte Jacobs (USA) galloped to victory aboard North Star's nine-year-old Irish Sport Horse gelding, Rincoola Milsean. The combination came just a tenth of a second behind Da Costa and finished in 38.41 seconds.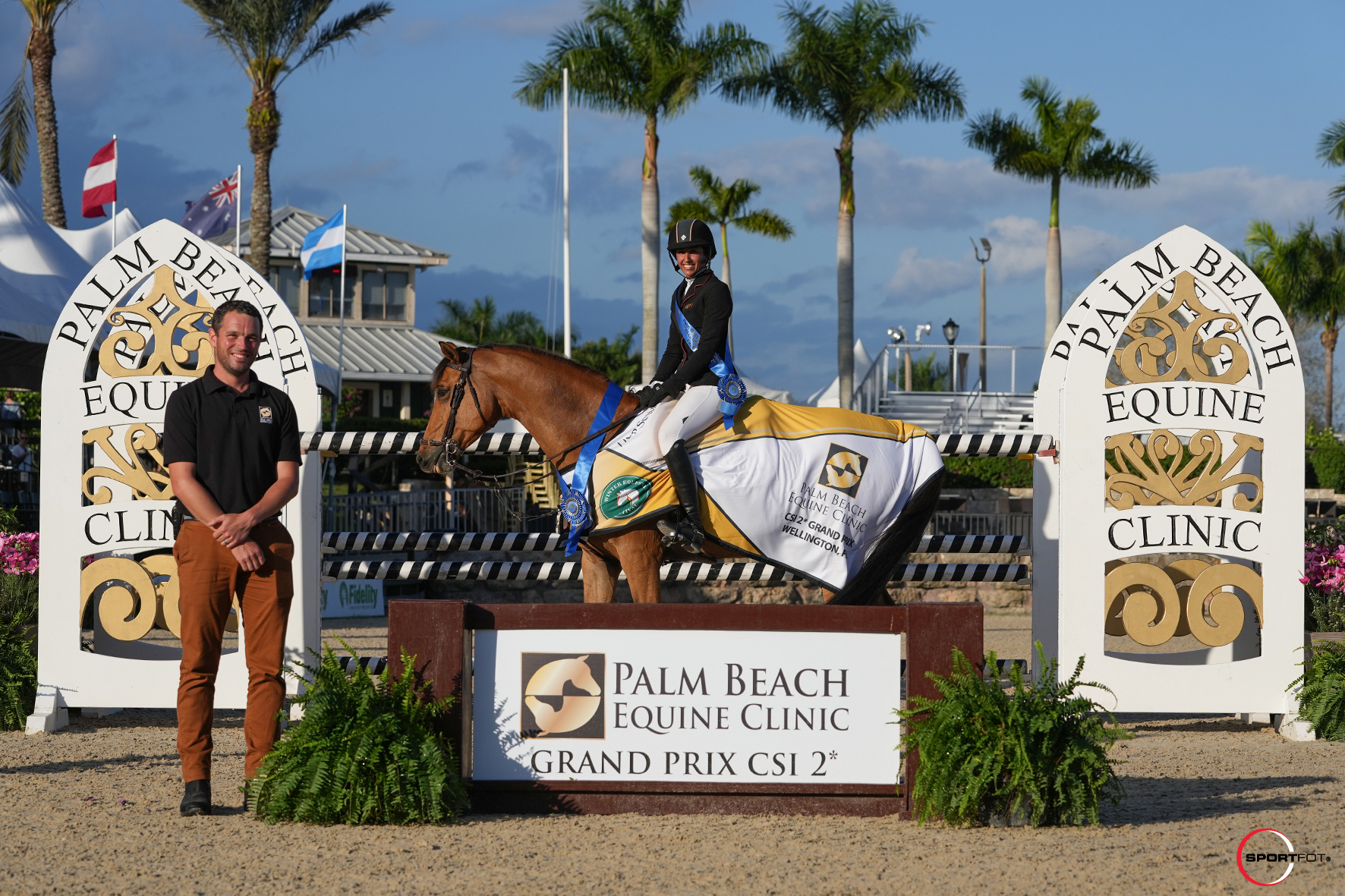 Final results: $50,000 Palm Beach Equine Clinic Grand Prix CSI2*
1. VALENTINO VZ: Zangersheide Stallion 2009 by Verdi TN x Converter
MARIA COSTA (USA), Maria Costa: 0/0/37.85
2. ILEX: Gelding KWPN 2013 by Baltic VDL x Chn Chin
FABIO LEIVAS DA COSTA (BRA), Good Luck Farm LLC: 0/0/38.29
3. RINCOOLA MILSEAN: Gelding ISH 2013 by Aldatus Z x Cruising
CHARLOTTE JACOBS (USA), North Star: 0/0/38.41
4. GIGI-CARMEN: 2011 KWPN mare by Bacardi VDL x Oklund
JOHN PEREZ (COL), John Perez: 0/0/39.41
5. MA POMME DE TAMERVILLE: BWP mare 2012 Deauville Van TL x Contendro II
ANNA WILKS (CAN), In show jumping: 0/0/40.78
6. URVOSO DU ROCH: Gelding Selle Français 2008 by Nervoso x Grand D'Escala
TOM WACHMAN (IRL), CSO Coolmore: 0/4/38.51
7. CON COLEUR: Hanoverian gelding 2009 by Contendro I x Couleur Rubin
REBECCA CONWAY (USA), Blue Hill Farm, LLC: 04/38.67
8. SUPER CHILLED: Gelvin ISH 2008 by Gelvin Clover
JONATHAN CORRIGAN (IRL), Debra Wycoff: 0/4/38.79
9. CONDOR DU VALDECIE : Gelding Selle Français 2012 by Quite Easy x Quito De Baussy
CHRIS EWANOUSKI (USA), Polo Jump LLC: 0/8/40.27
10. ELUNA CL Z: Zangersheide mare 2012 by Emerald x Nabab De Reve
ELIZA LEHRMAN (USA), Five Way Farm LLC: 0/8/42.91
11. PENNY CLASSIC: 2012 NWB mare
SYDNEY SHULMAN-DESIDERIO (ISR), Ilan Ferder: 0/12/37.82
12. CALLE QUINN: 2011 Holsteiner gelding by Calmando 3 x Quintero
LUIS FERNANDO LARRAZABAL (FRI), Ana Holguin: 0/74.21